After my children were born, I left the bakery business and went to work for my friend Carol. On the Wednesday before every Thanksgiving, we closed the office at noon and spent the rest of the day baking for our Thanksgivings. We always made the same things: apple pies, chocolate chip cookies and rugelach. We always filled our rugelach with prune or apricot filling, and topped them with cinnamon sugar and nuts. But really the filling options are limitless.
When I worked in the bakery business, I was never part of baking rugelach. I had watched the baking process, but was never hands on. When we first started baking for Thanksgiving, Carol pulled out an old recipe book filled with beautiful traditional Jewish recipes. It was in Carol's kitchen where I perfected my rugelach recipe.
She was not only a great friend, but an amazing boss. We not only baked, but my babies came to work with me. If they were fussy we would pass them back and forth so that we could both get our work done. An incredibly progressive idea for today, but back then it was revolutionary.
A pastry in a cookie shape, that is beautiful and delicious, this rugelach will have you coming back again and again. Pile these up on a beautiful platter for a perfect Hanukkah gift.
I make gluten free rugelach, but you can easily substitute regular all purpose flour. To measure out either type of flour, spoon the flour into the measuring cup and then level it with a knife. Do not scoop it out with the measuring cup. This will prevent you from adding to much flour to the recipe.
For more delicious organic recipe ideas for all of your holidays, please visit our recipe page.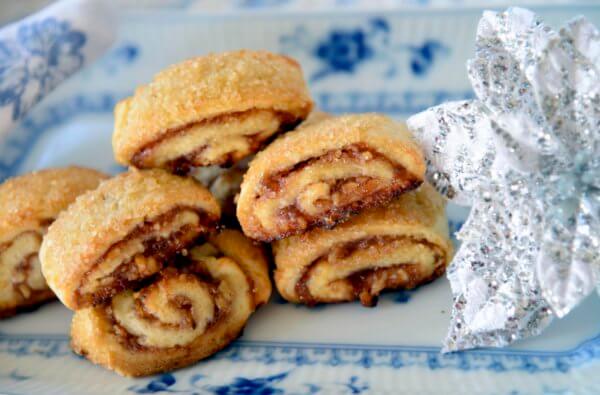 Passive Time

2

hours, 15 minutes
Passive Time

2

hours, 15 minutes
Cut butter and cream cheese into small pieces and beat until creamy.

Add vanilla and 1/3 cup of granulated sugar to bowl and mix until well incorporated.

Combine flour and salt, whisk until combined.

With mixer on low, slowly add in flour mix, beating well and scraping bowl after each addition. The dough will be sticky.

Separate dough into 4 equal pieces. Press dough into a flat disc shape and wrap well in plastic wrap. Refrigerate until firm and well chilled, about two hours.

When dough is well chilled, cover your work surface with plastic wrap or parchment paper and lightly flour. Take one of the wrapped pieces of dough out at a time, unwrap and place on your work surface.

Lightly dust with flour and roll dough out evenly to a 1/8" thick rectangle.

If desired, cover top of dough with a thin layer of jam or pie filling, leaving a narrow border around the edges. See note below for tips on selecting pie filling.

Combine remaining sugar with cinnamon. Sprinkle 1/4 of the cinnamon sugar mix on top of jam or filling, or if not using a filling, straight onto dough. Sprinkle with 1/4 of the finely chopped walnuts.

Starting with a long edge, roll dough into a tight roll, using the plastic wrap or parchment paper to help. Roll and press log down gently so the seam is on the bottom. The ends will be slightly loose - either cut them off or tuck them under and gently press them into the log.

Cut log into 1" pieces - a pizza cutter or bench knife works well. Brush with beaten egg and gently press top into the turbinado sugar. If egg free, brush lightly with water and press top into the turbinado sugar.

Place on a silicone mat or parchment paper covered baking sheet and refrigerate for 15 minutes. Preheat oven to 350 degrees.

Repeat with other chilled dough pieces.

Bake for 20-25 minutes until lightly golden brown. Place on a rack to cool completely.
*If your gluten free flour mix does not contain xanthan gum, add 2 teaspoons xanthan gum to your gluten free flour mix.
**Note: If using a pie filling, make sure it is a smooth filling. The rugelach shape does not work well with large chunks of fruit. I would not recommend using apple or cherry filling for that reason.
This Rugelach recipe is gluten free and vegetarian.