When we are overflowing with garden fresh tomatoes, we try to preserve the fresh, savory flavors of our heirloom tomatoes to enjoy all year long. My son and I created this bolognese sauce recipe together, and it is bursting with wonderful, robust flavors.
It is the long, slow cooking method that brings out all the wonderful flavors in this sauce. You can serve this sauce with a large flat noodle pasta, such as a tagliatelle or a rotini pasta. If you are gluten free, make sure you use gluten free pasta.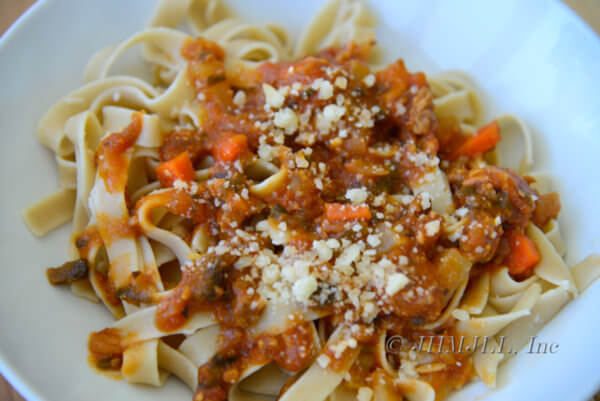 | | |
| --- | --- |
| | |
Dice the onion, carrot, celery into even 1/2 inch cubes. The evenness of the cubes adds to the flavor and texture of the sauce. Dice mushrooms into 1/8 inch even pieces, set aside.

Melt butter in a large non-stick soup pot or dutch oven, I personally prefer to use a large cast iron dutch oven. When the butter is melted, add the olive oil.

Add the celery, onions, carrots and garlic to the melted butter and olive oil. Cook over medium heat for about 30 minutes. The vegetables should cook down and become very tender. You need to cook them for at least 20 to 30 minutes.

Add the sausage to the pot. Cook until the sausage is no longer pink, about 20 minutes, stirring frequently while breaking up the sausage.

Add the ground beef and diced mushrooms. Cook until the beef is no longer pink, about 10 minutes. Stir frequently breaking up the beef and mixing well.

Add the bay leaf, basil, thyme, oregano, salt, bacon and wine. Mix the ingredients together. Cook for 10 minutes and then turn the burner to the lowest setting.

*If using fresh tomatoes, you will need to peel and seed the tomatoes before adding them to the sauce. Please see the note below on the easiest way to remove tomato skins.

Add the tomato sauce and diced tomatoes, stir well. Make sure that you have turned your burner to the lowest possible setting. Cover and simmer. Stir occasionally.

Simmer the sauce for at least 4 hours. The longer it simmers, the more the flavors meld together.

Discard bay leaf before serving.
Click here for instructions on how to peel a tomato.
This sauce is easy to freeze. Fill your freezer safe containers 2/3 full to allow for expansion, seal tightly and freeze until needed.
This Bolognese Sauce recipe is organic and gluten free.