I love to use this simple rice pilaf recipe as a jumping off point for my meal planning. It is a great way to dress up regular rice for a week day meal. It would not be unusual for me to take Monday's leftovers and incorporate them into Wednesday's rice pilaf.
While this simple rice pilaf is delicious on it's own, but can be combined with a never ending flavors. This rice would be delicious combined with dried cranberries, spinach or kale and walnuts with a dash of cinnamon for a delicious cold weather side dish or with citrus zest, slivered almonds and sauteed summer vegetables for a hot weather meal.
Let your imagination run a little wild and create your own amazing dishes.
For more delicious organic recipes, please visit our recipe page.
Need help finding organic items in your grocery store? Download our free mobile app with scanner today to ease the stress of shopping for organic products.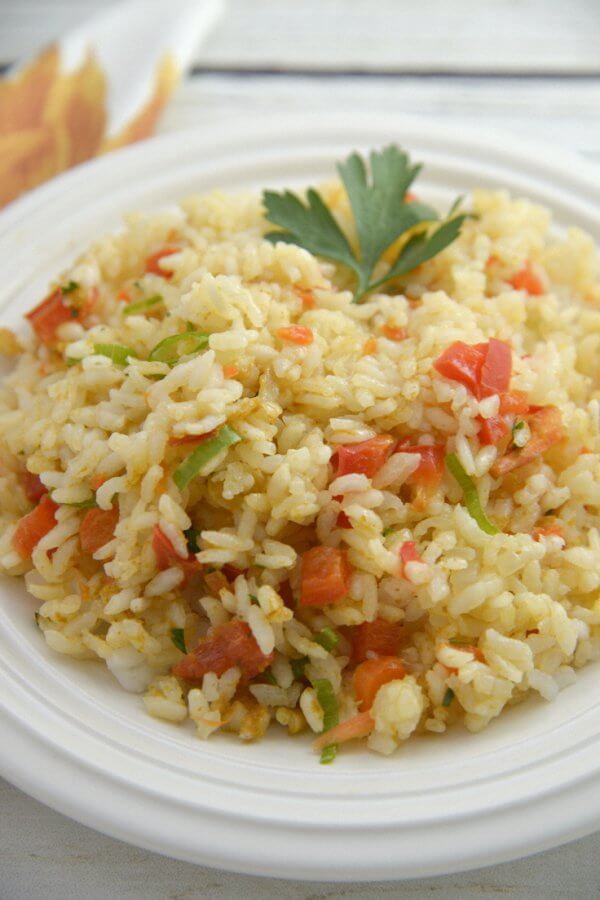 | | |
| --- | --- |
| | |
In a sauté pan add the olive oil, when the oil is hot add the onion. Cook for about 5 minutes on medium heat until the onion is translucent

Add the red pepper and carrots and cook for another 5 minutes

Rinse the rice under running water until the water runs clear to remove any excess starch

Add the rice to the onion and peppers and then pour rice mixture into a casserole dish and spread evenly over the bottom of the dish

In a saucepan, combine the chicken stock, salt and bay leaf and bring to a boil, cook for 5 minutes

Add the stock to the casserole dish and stir well. Make sure to spread the rice mix evenly over the bottom of the casserole dish and cover

Remove bay leaf and garnish with chopped parsley
This Simple Rice Pilaf recipe is gluten free, dairy free, organic and vegetarian.