I love to take a nice relaxing bath, any time of day or night. Nothing is more relaxing to me than sinking into a fragrant tub, whether it is a bubble bath, bath bomb or a wonderful milk bath. This Rose Milk Bath surrounds me with beautiful fragrance, makes my skin feel wonderful and fills me with peace, while I enjoy my soak.
I was spending a ridiculous amount of money on bath products for my daily baths. after talking with a friend of mine she told me she always makes her products from scratch. I thought, hmm, I can do that!
I already have essential oils and with just a small additional investment in some staple products, I now make my own bath soaks. I love experimenting with different fragrances and moods, while knowing exactly what is in my bath products.
Adding a carrier oil to the essential oil keeps the essential oils from touching your skin directly. It also allows for even distribution of the oils all over your skin.
For more information about living an organic lifestyle, please visit our resources page.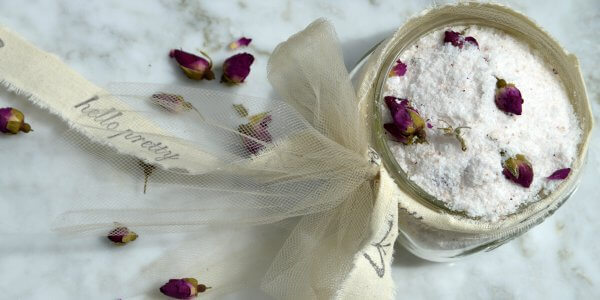 | | |
| --- | --- |
| | |
Mix the almond oil and rose essentail oil together in a small glass bowl or jar, set aside

In a non reactive bowl add the milk powder and salt together, stir together

Add the essential oil blend to the dry mix and blend together

Add the rose petals or flowers at the end and stir gently

Allow to sit for about 24 hours to allow the essentail oils to infuse the milk bath

Add 1/2 to 1 cup milk bath to running water and enjoy!