Recently, my son enjoyed a beautiful slice of pie at one of our favorite restaurants. I just couldn't resist taking a picture of what my family immediately dubbed "The Elvis Pie."
My phone is filled with pictures of restaurant dishes. I always ask a bunch of questions about how it tastes and what's in it, so that I can try and recreate it at home.
What's makes this chocolate and peanut butter pie even better is that it is an ice box pie, so there is nothing to bake.
Since January is the month of Elvis' birthday and National Peanut Butter Day, I thought this was the perfect time to share this recipe.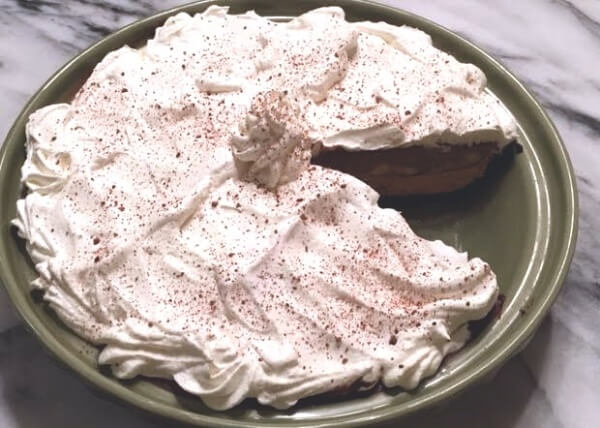 | | |
| --- | --- |
| | |
Butter or spray a 9" pie plate with cooking spray.

In a bowl, combine the chocolate cookie crumbs, melted butter and sugar. Mix until well combined.

Press firmly into a 9" pie pan and refrigerate until well chilled.

For peanut butter filling, combine half of room temperature cream cheese, 1 cup of whipped cream, peanut butter, and 1 teaspoon of vanilla extract in a bowl. Blend until well combined.

Spread the peanut butter filling evenly in the bottom of the cooled pie crust.

Slice bananas and evenly layer the slices into the peanut butter filling, gently pressing into filling.

For chocolate filling, combine the rest of the room temperature cream cheese, 1 cup of whipped cream, 1 teaspoon vanilla extract, cocoa powder and melted chocolate chips in a bowl. Fold together gently until well combined.

Spread chocolate filling evenly over bananas making sure to cover them completely. Refrigerate while preparing ganache.

Prepare ganache by heating heavy cream to a boil. Pour hot heavy cream over chocolate chips and salt. Do not stir! Let the bowl sit for 10 minutes to allow chocolate to soften and then stir until smooth and shiny.

Remove pie from refrigerator and slowly pour ganache over chocolate filling until it is covered completely.

Refrigerate pie until ganache is set.

Top pie with whip cream and dust with cocoa powder or chocolate slivers. Refrigerate until needed.
This pie can be made several days in advance. Cover well with plastic wrap and refrigerate.
This Elvis Pie recipe is organic and vegetarian, and can be made gluten free.