I discovered Cowboy Caviar at one of our annual weekends with college friends. Everyone always brings dishes to share. I am always very careful with what I eat because of all the dishes, not to mention all the different people serving themselves. Cross contamination kills me. So, I saw the cowboy caviar and asked what it was.  I did not try it since I was uncertain of whether or not her recipe was gluten free. I did however keep it in the back of my mind, knowing I was going to have to try it for myself.
This refreshing and simple to make dish is perfect to bring to any BBQ, potluck or just for a snack.
You can make this as mild or as spicy as you like, for this recipe I used a mild pepper. I also looked at recipes that included avocado and others that did not. I decided to add avocado, but it is optional.
For more delicious organic recipes, please visit our recipe page.
Need help finding organic items in your grocery store? Download our free mobile app with scanner today to ease the stress of shopping for organic products.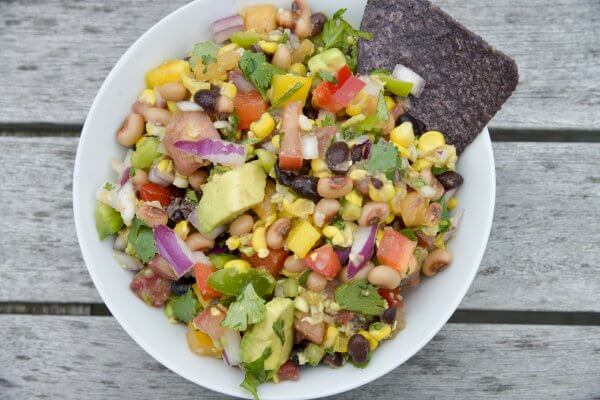 | | |
| --- | --- |
| | |
Put all of the salsa ingredients in a large bowl and mix together well

In a small mixing bowl add the ingredients for the dressing and mix well

Add the dressing to the salsa and stir all the ingredients together

Serve with tortilla chips and enjoy!
You can add any kind of hot peppers you like, it is up to you how spicy you like it.
Ã?
This Cowboy Caviar recipe is dairy free, gluten free, vegan, and vegetarian.