We found a bar in Wisconsin that serves up the best chicken wings we have ever had. We saw the bar on the corner and decided, "Why not?" There were about a hundred Harley's lined up in the front and a very large, intimidating man at the door, but we were hungry and went in anyway. We ordered up a bucket of chicken wings and a couple of cold beers We were hooked.
We used to take the kids on Thursday nights because it was wing night and they were ridiculously cheap.  I would not normally take my kids to a biker bar, but the food was amazing! It was the place we had to go if we were in Wisconsin. We have had some great times in that place.
Everyone is older and busier now. We don't get up to that bar as often as we would like. I was determined to figure out how to make their wings. It has taken me quite awhile to perfect this recipe. I tried a dozen store bought wing sauces and eventually gave up on that and came up with my own homemade recipe that works beautifully..
I got a deep fryer from the kids for Christmas a couple of years ago and that my friends, was the key to take these wings to perfection. To make these wings, they need to be deep-fried. I have done them in a cast iron skillet with oil and that works, but a deep fryer works better. Baking is also an option, but to achieve the proper texture, they need to be fried.
The wings I use for this recipe are called Drummettes. Regular size chicken wings will not work for this recipe, they are too big and will not come out well. I have used them and have even tried cutting them up, but they just don't work well. The grocery store sells Drummettes and they work perfectly. I use a light oil like peanut or canola oil. It is always better to start with a clean fryer. Frank's Red Hot Sauce is the sauce you will want to use, it works the best and they sell it just about everywhere. Whatever you decide to use, Tabasco sauce will not work.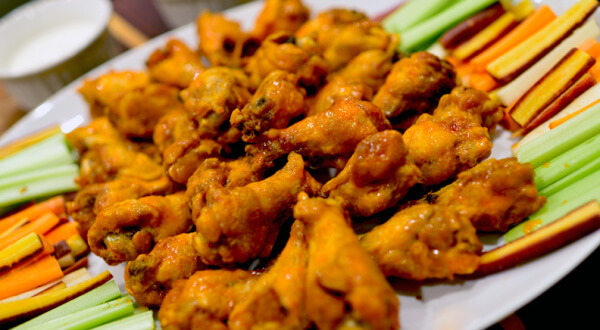 Preheat the fryer to 355º Preheat the oven to 350º

Place 8-10 drummettes in the fryer at a time and cook for 7 minutes. When they are done, let the wings drain for a minute and place them into a large bowl.

When you are on your last 2 batches in the deep fryer, place the butter and the hot sauce in a medium size sauce pan and heat on low. You want it just hot enough to melt the butter, stirring frequently. Making the sauce too early will cause the hot sauce to separate. When the butter is melted, remove from the heat and set aside.

When all your wings are done being cooked in the deep fryer, add half the hot sauce mix to the bowl and mix together until all the wings are coated with sauce.

Place the wings on a baking sheet and cook for 10 minutes at 350º. When the wings are done take the remaining sauce and spread over the wings.

Serve with blue cheese and/or ranch dressing and fresh cut up vegetables. I use carrots and celery. Enjoy!
This Chicken Wings recipe is organic and gluten free.