I make this caramelized onion dip every chance I get. Store bought dips just can't come close to its amazing flavor. I love this dip and I serve it whenever we have family and friends over. We set it out with a huge bowl of chips to keep everyone busy while we are putting the rest of the food out.
Caramelizing the onions is absolutely worth the time it takes because that is what creates the fantastic flavor.
Of course, to save time, you can make this caramelized onion dip or caramelize the onions ahead of time. The caramelized onions can be made separately and refrigerated for 3-4 days or frozen for up to three months. If I have time, I will caramelize my onions the weekend before, but I also like to make the dip at least two days before it is needed. The refrigeration gives the flavors a chance to develop before serving. You can safely refrigerate the completed dip in an airtight container up to 4 days.
For more delicious organic recipes, please visit our recipe page.
Need help finding organic items in your grocery store? Download our free mobile app with scanner today to ease the stress of shopping for organic products.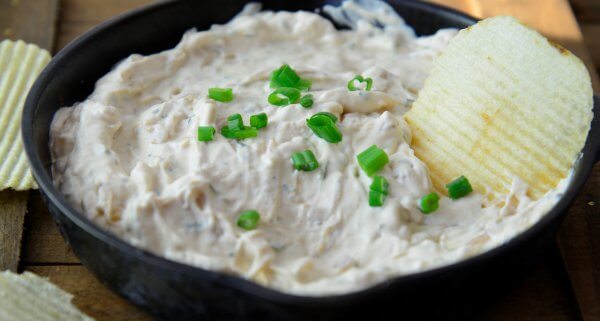 | | |
| --- | --- |
| | |
Add olive oil to a skillet and heat on medium low.

Add thinly sliced onions in an even layer and cook on medium low, stirring occasionally. Total caramelizing time will be 25-30 minutes, depending on how thinly the onions are sliced.

After ten minutes, add the salt and both sugars. Continue cooking on low, stirring occasionally, until the onions are a rich brown color.

Once the desired color is reached, stir in the red wine vinegar, scraping the bottom of the sauce pan to deglaze. Cover the sauce pan and cook on low until the vinegar has been cooked off.

Remove from heat and allow the onions to cool.

If cooking the onions in advance, refrigerate in an airtight container until needed.
In a bowl, mix mayonnaise, sour cream, oregano and parsley.

Add caramelized onions and if desired, the hot sauce, and mix well until well incorporated.

Refrigerate completed dip until needed.
This Caramelized Onion Dip is organic and gluten free.