We love fried chicken, but organic, delicious, gluten free fried chicken is not easy to find. When I told the kids I was going to start working on a recipe, they lined up for taste testing. I tried about six different varieties of how to make fried chicken and this is hands down the winner. Nobody will know this chicken is gluten free, I guarantee it.
First, I tried panko crumbs and they fell right off the chicken. Then I tried to use all-purpose gluten free flour, but the recipe did not work very well at all.  The coating was inconsistent and it did not hold up to the hot oil. For my next attempt, I tried to use just rice flour. It tasted fabulous, but looked awful. I had to cook it halfway in oil and then bake it in order to cook it all the way, which resulted in a soggy coating and dried out chicken. I also tried the 3-2-1 combo and it worked, but I wanted more flavor.
At some point during this process, Justin reminded me of a place he went to that served amazing fried chicken that used matzo as the coating. So I set to work using matzo and I have to say, he was right.
If you can't find matzo meal, you can process matzo crackers in a food processor until they are a fine crumb.
For more delicious organic recipes, please visit our recipe page.
Need help finding organic items in your grocery store? Download our free mobile app with scanner today to ease the stress of shopping for organic products.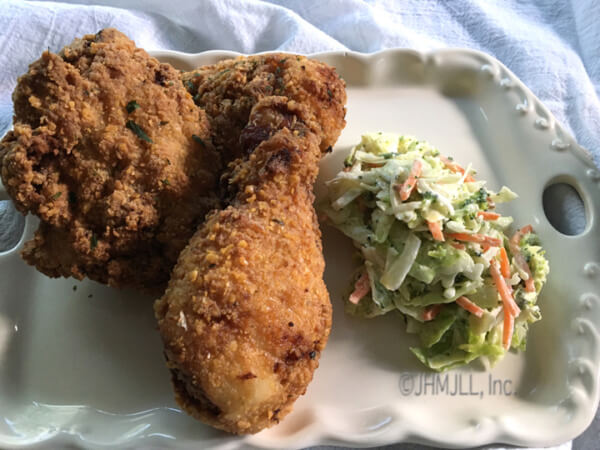 Cook Time

12-24

minutes per piece
Passive Time

2

hours to overnight
Cook Time

12-24

minutes per piece

Passive Time

2

hours to overnight
Let the chicken get to room temperature before frying. Pulling it straight from the fridge will cool the oil off when you add it to the fryer.

Mix the bottle of ranch dressing and buttermilk in a large bowl, add chicken. Let soak at least 2 hours or overnight.

Add the oil to the deep fryer and preheat the fryer to 325º.

If using a dutch oven or cast iron skillet, heat the oil to 325º You need at least 4 inches of oil in the dutch oven to fry the chicken properly. Use a candy thermometer to test the temperature of the oil.

Place a wire rack inside of a baking sheet, set aside.

For the flour mix, combine all the dry ingredients except the matzo in a large mixing bowl.

Add 1 cup flour mix to a large zip-top plastic bag add 1/2 cup matzo meal to the bag. Zip closed and shake until the matzo is well incorporated - (I add the matzo separately to the plastic bag instead of adding it to the flour, so that if there is any flour mix leftover, I can store it for a later use.)

One at a time, take the chicken out of buttermilk and place in the zip-top bag. Shake to coat the chicken, press the coating into the chicken and place on a plate. Add more flour and matzo to the zip-top bag as needed. It is 1 part flour mix to 1/2 part matzo.

If using a deep fryer, fry about 2 pieces of chicken at a time. You do not want to crowd the chicken in the fryer. Cook for 12 minutes. The internal temperature needs to be 175º Using a meat thermometer, test the chicken to be sure it is done.

If using a dutch oven or skillet, you can do about 3-4 pieces at a time so long as the chicken is not touching. To keep the chicken from sticking you may have to hold the chicken with tongs for one minute until it seals Cook 10-12 minutes per side. The internal temperature needs to be 175º Using a meat thermometer, test the chicken to be sure it is done.

When chicken pieces are done place them on the wire rack. Paper towels will soak up all the oil and dry out the chicken and the coating may stick to the paper towels. Let the chicken rest for 10 minutes before serving.
This Buttermilk Ranch Fried Chicken is organic and gluten free with ingredient substitutions.