Nothing says American food like a good old fashioned potato salad.  It is great for barbecues, picnics, casual suppers or as a potluck dish. I love potato salad and make this particular recipe a lot. In the summer, I make a large batch of this salad at the beginning of the week and the kids will munch on it all week long. Of course, it goes really well as a side with brats, burgers and hot dogs, but it is also is great with steak and chicken.
Everyone needs to have at least one fantastic potato salad recipe that they can rely on and this one has become my go to recipe. It is easy to make and delicious with eggs, celery and dill pickles.
When I was at the store the other day I found a jar of, get this, dill relish!  I don't know if I have had my head in the sand, but I have never seen that before.  I bought a few jars and that is what I used in this recipe. You can just chop up pickles, but dill relish is a great time saver.
Just in time for Memorial Day weekend, serve our Chicken Wings as an appetizer, then serve this salad alongside our Grilled Corn with burgers and hot dogs for a festive holiday menu.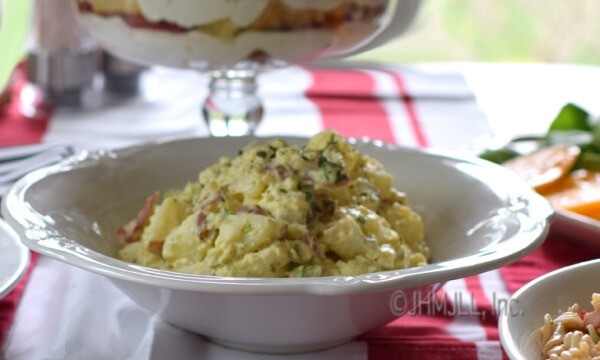 | | |
| --- | --- |
| | |
Clean the potatoes with water. Cut the potatoes in half and then cut the halves into quarters, continue that process until you have 2-3 inch cubes of potatoes.

Place the cut potatoes into a large soup pot and cover with water. Bring the water to a boil and let cook the potatoes until fork tender, about 15- 20 minutes. Strain in a colander and rinse with cool water.

Strain the potatoes in a colander and rinse with cool water. Let sit until completely cool, about 10 minutes

Place 6 eggs in a sauce pan and cover eggs with water. Bring the eggs to a boil, turn the heat off and let sit for 10-12 minutes in the water. When done, rinse with cool water and let cool. When they are cool, peel and chop the eggs.

Place all the ingredients in a large mixing bowl and mix together gently.

Start with 1/4 teaspoon of both salt and pepper and then if desired, add salt and pepper to your taste.

Sprinkle the top with paprika to add a little color to your salad.
ThisÃ? Basic Potato Salad is organic, gluten free, dairy free, and vegetarian.